The TEDx Talk That Started It All
Karith Foster's TEDx Talk, "The Art of Defying Stereotypes: Learning to be True to Your Voice" has garnered accolades in The Washington Post and TIME Magazine.
A New Way to Talk Diversity

INVERSITY™
Instead of Diversity, we're going to talk about INversity. We're going to talk about the things we have in common with each other.
Stereotyped 101
Karith Foster was a successful comedian and broadcast journalist before she became a diversity engagement specialist. Her goal: "To turn traditional diversity and inclusion training on its head, and leave people feeling good rather than frustrated."

Media Reel
As a speaker, humorist, TV & radio personality, author, entrepreneur, wife, and mother, Karith is a positive force of change with her sense of duty, service—along with her riotous sense of humor. "If you can laugh at it you can get through it," is her motto and the invaluable lesson she seeks to instill in others.

On-Demand Presentation
DEI Detox: Creating a Healthy Culture After Toxic DEI Programming
𝗨𝗻𝗹𝗼𝗰𝗸 𝘁𝗵𝗲 𝗦𝗲𝗰𝗿𝗲𝘁𝘀 𝘁𝗼 𝗮 𝗛𝗲𝗮𝗹𝘁𝗵𝘆 𝗖𝗼𝗿𝗽𝗼𝗿𝗮𝘁𝗲 𝗖𝘂𝗹𝘁𝘂𝗿𝗲:
Spotting telltale signs of toxic DEI programming hiding in your organization

Weighing the repercussions of toxic DEI programming on employee well-being, engagement, and zest for work

Prescribing a 5-step DEI Detox treatment plan, including strategies, tools, and techniques that address the root causes of toxicity



Infusing the INVERSITY Solution to rejuvenate engagement with C.A.R.E.: Conscious Empathy, Active Listening, Responsible Reactions, and Environmental Awareness



Neutralizing unconscious bias by administering a potent dose of awareness tools and resources



Tracking the progress and impact of your DEI Detox journey and continuously fine-tuning your formula for lasting success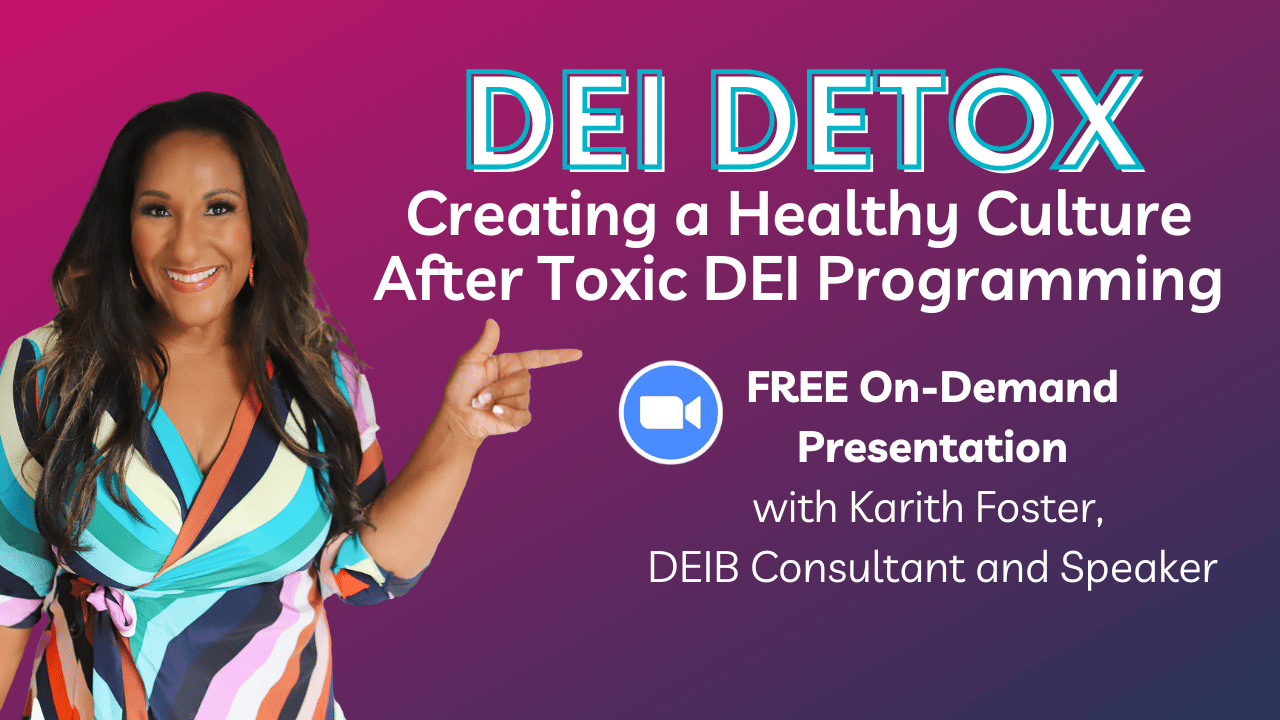 INVERSITY™ is about maximizing positive outcomes for everyone participating in the conversation.
"We think DEI work is a two-way street when it's actually a six-lane highway."
Karith Foster
TESTIMONIALS
What people are saying about INVERSITY™
"Rarely do you find someone both gifted in the art of communication and compassion that even the most controversial and uncomfortable of conversations lose their edge. In place of anger and confusion, Karith masterfully brings peace, calm and resolution - not to mention the appropriate amount of humor. Her unique and powerful take on DEI is just what the world needs right now."
Susan Scott, Founder, Fierce Conversations
"The traditional approach to diversity and inclusion is in trouble. INVERSITY brings a better approach that has a more significant impact. What is the value of INVERSITY? The top three answers that come to mind are 1. Better collaboration, 2. Enhanced awareness, and 3. Celebration of our uniqueness."

Ibrahim Jackson, CEO & Founder of Ubiquitous Preferred
"Her message of 'inversity,' putting the focus on inclusion rather than division, made a huge impact. The audience enjoyed her presentation style, and fully engaged with her. Karith's talk received more enthusiastic positive comments than any other speaker. I was even receiving texts about how great she was while she was still on stage!"

Mark Saum, Principal, Fidelis Consulting Corporation
"Today I had the opportunity to attend your Inversity webinar and I want to thank you for your honesty, transparency, and graciousness.
You shared a piece of your heart in stories that showed vulnerability. Thank you so much for your time and wisdom today."
Linda Lydon, CCWS, Stanford University Human Resources
Karith Foster Has Been Featured In...
"Her approach allows everyone 'to make mistakes, say the wrong thing sometimes and be able to correct it.'
'It's not about being right or wrong but understanding when bias comes into play.'"
The new york times
KEYNOTE Speaking & WORKSHOPS
For over a decade, Karith has given presentations and training at corporations like The Estée Lauder Companies, Berkshire Hathaway companies, and Bristol-Myer Squibb, academic institutions such as Stanford, MIT, Harvard and training associations like SHRM, CTIA and the US Chamber of Commerce.
Leadership roundtables
Uncover the immense potential of Leadership Roundtables, a collection of dynamic facilitated discussions and planning sessions, equipping leaders to evaluate their progress, advance DEIB efforts and create a C.A.R.E. Culture within their organizations.
Online Learning
Access online learning and real tools to navigate the sensitive and ever-evolving landscape of diversity. INVERSITY™ offers seven online learning modules with engaging supplemental activities designed for introspection and reflection.
IT'S NOT HARD WORK;
IT'S HEART WORK.