Learning and Laughter:
Humor Boosts Retention
Karith's secret weapon is that she uses
humor
in her INVERSITY™ trainings.
According to numerous neuroscience research, humor stimulates the brain's dopamine reward system, which activates motivation and long-term memory. 2,3
Karith Foster can deliver her memorable presentations in various ways:
Keynote: Designed to inspire and inform on a grand scale, keynotes are incredibly versatile and accommodating of large audiences. No prior knowledge in Inversity concepts is required, making these 60-90 minute sessions (including a Q&A session) accessible and engaging for a diverse range of participants.
Workshop: These interactive learning experiences range from 2 hours, half day, full day and 2 full days, catering to small or medium-sized groups of 10-50 participants. While a keynote delivers an inspirational talk in a one-way communication format, a workshop dives deeper into content, featuring hands-on learning experiences, stimulating discussions, interactive exercises, and higher levels of participant engagement.
Facilitated Conversations: These structured discussions, lasting between 90 to 120 minutes, encourage connectivity and a sense of belonging among the group of 10-50 participants. It is recommended that attendees have a foundational knowledge from previous keynotes or workshops to engage in more meaningful and productive dialogues.
Leadership Roundtables: Centered around themed discussions relating to inclusion, belonging, and leadership, these standalone sessions cater to smaller groups ranging from 5 to 30 participants. Participants engage in targeted discussions, fostering deeper insights and empowering conversations on specific topics related to inclusion, belonging, and leadership. These sessions focus on targeted issues faced by different leadership levels, or can cater to diverse groups within your organization (smaller groups for 60-120 minutes).
Customized Combo Package of 3+ Events: We collaborate closely with your organization, tailoring a series of sessions that align with your unique needs and objectives. The benefit of multiple events is an enriching experience that steadily grows in impact over time, circumventing the routine 'check the box' scenario and genuinely reflects your dedication to these subjects. This package can encompass keynotes, workshops, facilitated dialogues, leadership roundtables, or a bespoke combination of these formats, all dovetailed to your specific objectives and preferences.
These experiences can be delivered in-person, virtual or both.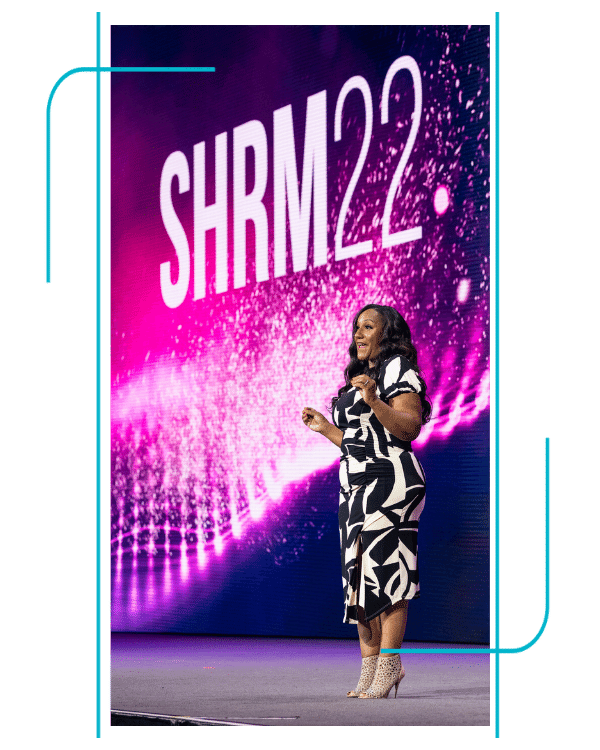 What Level of DEPTH Does Your Organization Need?
These experiences offer different levels of depth, allowing organizations to tailor their DEIB journey based on their goals and objectives. Typically, organizations begin with a Keynote and/or Workshop, followed by engaging in Facilitated Conversations. However, some organizations prefer to prioritize understanding how Leadership can introduce, support, and expand upon DEIB efforts, opting to start with Leadership Roundtables.

The choice depends on your specific goals and desired outcomes. Take a look at the options below to determine the best fit for your organization's DEIB journey.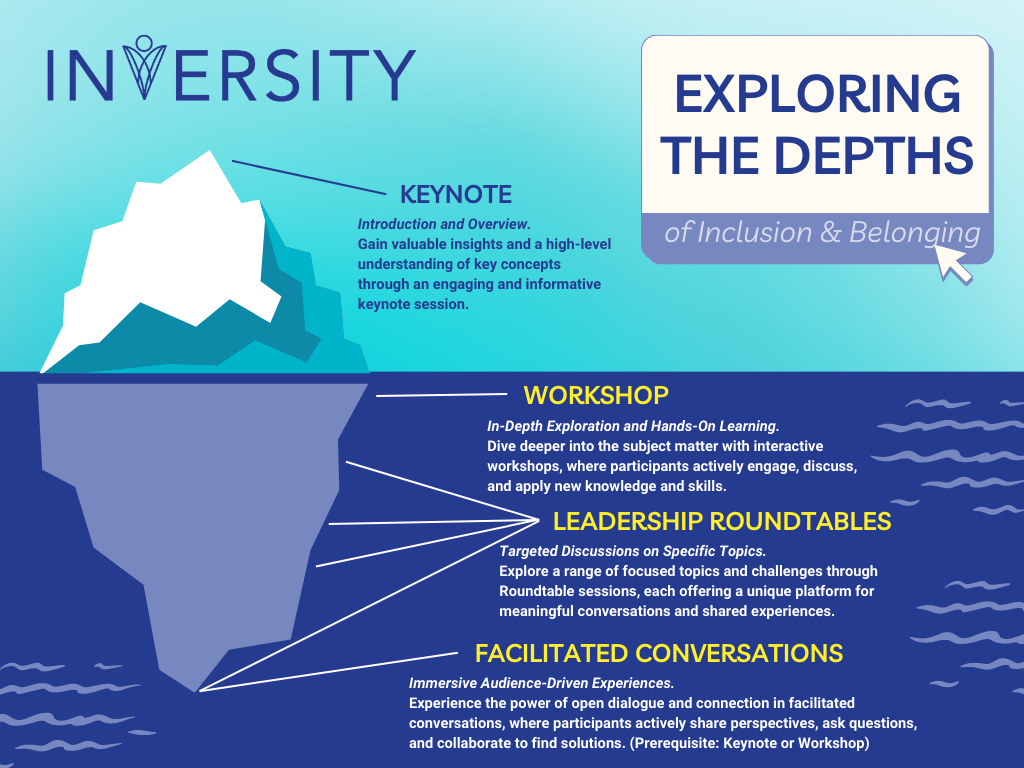 What Level of STRUCTURE Does Your Organization Need?

The XY chart provides a visual representation of the varying levels of structure and audience interaction across different DEIB experiences. The X-axis captures the range of structure, with each experience occupying different points along the spectrum, from tailored and flexible to structured and guided. On the Y-axis, the level of audience interactions is depicted, with each experience offering different degrees of participation, from active and collaborative to observational.
This chart allows organizations to assess and select the most suitable DEIB experiences based on their desired level of structure and audience interaction, ensuring a tailored and impactful journey towards inclusion, belonging, and growth.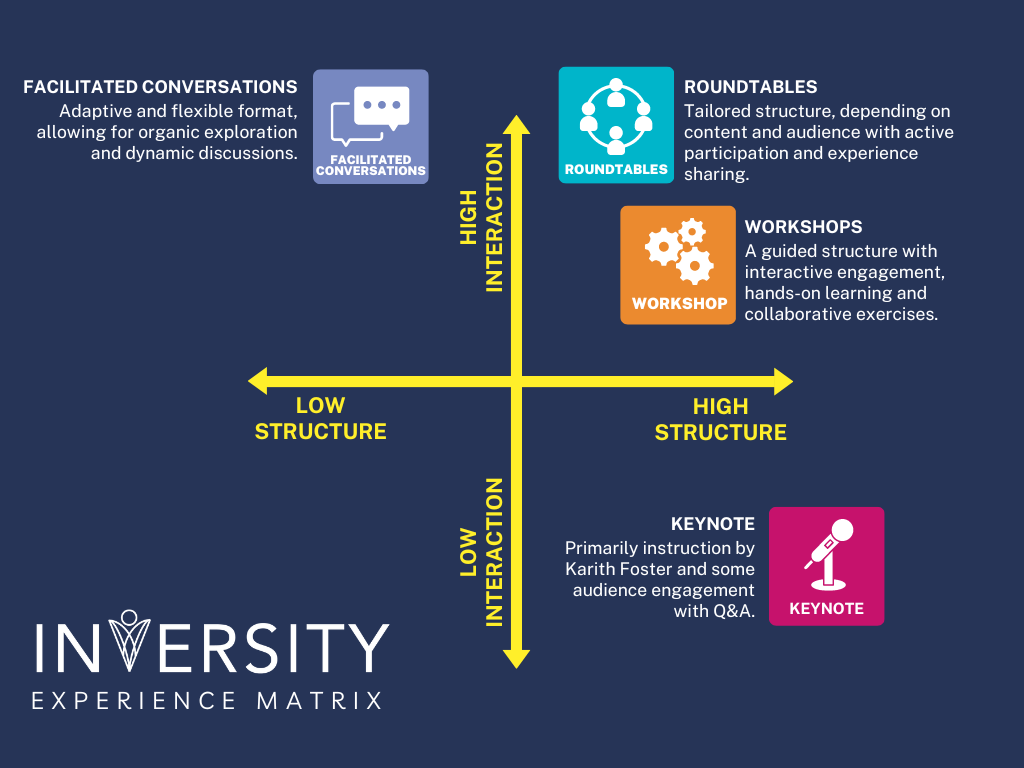 What Type of INTERACTION Does Your Organization Need?

Experience is the cornerstone of Karith's programming. She meticulously crafts each session, fostering an intentional experience marked by active participation and deep interaction. Each live or virtual engagement with Karith promotes conscious communication, encourages evolution and, most importantly, revolves around having a good time. DEIB is paramount and it needn't be monotonous or toxic. Life is too short for misery.
Interaction Techniques:

1. Humor

By employing humor to neutralize spaces, she lowers defenses and lifts spirits, fueling accelerated learning and retention. Leveraging her 25+ years of experience as a humorist and stand-up comedian, Karith sprinkles her presentations with humor and tasteful jokes that are "Corporate Clean" and rated G or PG.

2. Storytelling

Storytelling is another of Karith's strengths, offering a rollercoaster of emotions from poignant moments to belly laughs. Her blend of personal anecdotes and relatable narratives underline the message of INVERSITY - our common connection to one another.
3. Interactive Games and Activities

Karith aims to promote and create brave spaces of communication for all participants. The games and activities provide an engaging platform to discover strengths, weaknesses and unearth potential areas for growth through physical games and interactive experience.
Inversity group exercises illuminate participants'

connection to the collective

, unlike traditional DEI exercises that spotlight differences.



The C.A.R.E. model (

Conscious Empathy, Active Listening, Responsible Reactions, and Environmental Awareness) underpins communication exercises.

Other activities include

"What's in a Name?"

a conversation starter involving name histories, and

"Share & Tell,"

a deep-dive exercise prompting shared experiences.

Communication card games

involve over 500 pre-vetted questions, randomly selected by the roll of a die and discussed in a round-robin manner.

INVERSITY™ Jenga

requires each participant to discuss a question or scenario specific to INVERSITY.

The INVERSITY™ version of "Guess Who?"

presents challenging clues, inviting participants to play with child-like innocence, devoid of bias.
4. Interactive Slides

Visual components in the form of personal or sourced slides further enhance her storytelling, providing evidence or highlighting the exaggerated examples that bring her points to life.
Interactive, engaging, and user-friendly:

Features like live polls and quizzes enhance participation. With no need for apps or downloads, our technology allows your team to join seamlessly via a QR code or URL, making it ideal for both remote and in-person meetings.

Promotes inclusivity and connection:

By giving every team member a voice through interaction, INVERSpeak™ Slides encourages active participation and builds a strong sense of unity and understanding among your team members.

Adaptable to your organization:

We incorporate thoughtfully designed questions and polls aimed at collecting immediate feedback from your team and leaders during the presentation. This real-time engagement enables Karith to adapt the content to their needs while she's speaking. This ensures a unified, interactive, and customized learning experience that can foster connection and even spark laughter among participants.
KEYNOTE Speaking & WORKSHOPS
For over a decade, Karith has given presentations and training at corporations like The Estée Lauder Companies, Berkshire Hathaway companies, and Bristol-Myer Squibb, academic institutions such as Stanford, MIT, Harvard and training associations like SHRM, CTIA and the US Chamber of Commerce.
Leadership roundtables
Uncover the immense potential of Leadership Roundtables, a collection of dynamic facilitated discussions and planning sessions, equipping leaders to evaluate their progress, advance DEIB efforts and create a C.A.R.E. Culture within their organizations.
Online Learning
Access online learning and real tools to navigate the sensitive and ever-evolving landscape of diversity. INVERSITY™ offers seven online learning modules with engaging supplemental activities designed for introspection and reflection.
Karith Foster Has Been Featured In...
"Her approach allows everyone 'to make mistakes, say the wrong thing sometimes and be able to correct it.'
'It's not about being right or wrong but understanding when bias comes into play.'"
The new york times
IT'S NOT HARD WORK;
IT'S HEART WORK.