Speaking & Training Services
Leadership Roundtables
Leadership is not a natural state of being, but rather a skill that must be acquired, nurtured, and shared. Leadership Roundtables provide valuable mentorship and support to help leadership grow and succeed.

Uncover the immense potential of Leadership Roundtables, a collection of dynamic and insightful facilitated discussions led by renowned inclusion and belonging expert, Karith Foster.
What are Leadership Roundtables?
Leadership Roundtables are themed, standalone sessions where participants engage in targeted discussions, fostering deeper insights and empowering conversations on specific topics related to inclusion, belonging, and leadership. These sessions focus on targeted issues faced by different leadership levels, or can cater to diverse groups within your organization (smaller groups for 60-120 minutes).
Roundtables can be delivered in-person, virtual or both.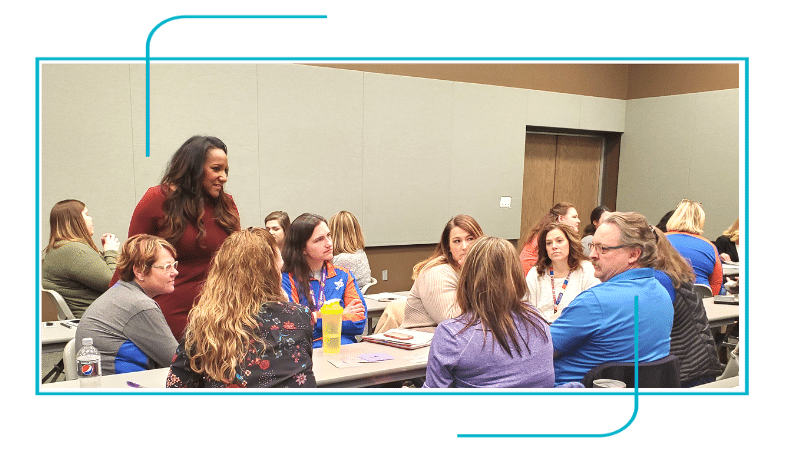 leadership roundtables
Discussions for Diverse Leadership Groups
These roundtables serve as invaluable platforms that offer mentorship, support, and practical tools to help various groups navigate the unique challenges they face in their leadership journeys.


Whether it's empowering
women leaders
to overcome gender biases and excel in male-dominated environments, providing support and guidance for
BIPOC
or
LBGTQ+
leaders
navigating their unique experiences, equipping
aspiring leaders
with the necessary skills and strategies to advance their careers, assisting
HR departments
in fostering inclusivity and addressing diversity challenges, or enabling
senior leadership
to effectively drive organizational change, the content, format, and duration of the
Roundtables can be customized to align with the objectives and goals of each group.
Sample Outline: Women Leaders
Navigating Gender Bias
With over 100+ unconscious biases affecting everyone's perceptions, it's crucial for women to recognize and overcome the inherent gender biases that can hinder their success. Whether these biases are present in woman-to-woman interactions, woman-to-man or man-to-man interactions, the roundtables will address these biases and help participants develop strategies to counteract them.
Soft Skills as Superpowers
Soft skills are often overlooked, but they are essential for effective leadership. The Leadership Roundtables will highlight the importance of these EQ skills and teach participants how to use them as superpowers to advance their careers, retain key employees and help grow the organization.
Challenging Double Standards
The roundtables will tackle the double standards that women often face, such as being labeled as "cold" or "unapproachable" for displaying the same direct "no-nonsense" communication style that is applauded in men. By addressing these discrepancies, the roundtables will help create a more equitable work environment.
Fostering an Inclusive Environment:
The Roundtables will help participants create a more inclusive and supportive workplace where everyone's light can shine. By empowering female leaders, organizations can foster greater diversity and inclusion, benefiting everyone.
Sample Outline: Senior Leaders
Disconnection
Overcoming executive isolation and expanding perspectives by increasing exposure to diverse experiences and individuals outside of the EVP echelon, fostering a more inclusive and well-rounded leadership approach.
Confidence
Building confidence in navigating personal relationships with colleagues from diverse backgrounds by practicing empathy and cultivating a supportive environment that values diverse perspectives and experiences.
Communication
Enhancing clear and effective communication skills to minimize misunderstandings, promote a culture of open dialogue, and provide corrective measures for any communication errors that may arise.
Fear
Addressing fear as a barrier to taking action and forming deeper relationships, creating a safe and supportive environment that encourages vulnerability, risk-taking, and meaningful change.
Bias Awareness
Understanding and mitigating the impact of unconscious bias on decision-making processes, fostering inclusive and equitable leadership by recognizing and challenging biases.
Inclusive Leadership
Championing diversity, equity, and inclusion efforts from the top by developing strategies to foster diverse talent pipelines, create inclusive policies, and establish accountability measures for progress.
Psychological Safety
Cultivating an environment of trust and authenticity that encourages the expression of diverse perspectives, promotes innovation, and empowers collaboration while ensuring psychological safety for all team members.
Inclusive Culture
The Leadership Roundtables will help participants collectively work towards understanding and overcoming the challenges that hamper their ability to support and feel comfortable addressing DEIB. Through shared insights, experiential learning, and actionable strategies, the Roundtable will empower EVPs to foster a more inclusive and equitable leadership culture within their organizations.
Customization
The content, format, and duration of the Leadership Roundtables can be customized to align with the objectives and goals of each group. If you wish to see sample themes for BIPOC leaders, LBGTQ+ leaders, HR departments or aspiring leaders, please request a proposal.

Karith Foster Has Been Featured In...
"Her approach allows everyone 'to make mistakes, say the wrong thing sometimes and be able to correct it.'
'It's not about being right or wrong but understanding when bias comes into play.'"
The new york times
KEYNOTE Speaking & WORKSHOPS
For over a decade, Karith has given presentations and training at corporations like The Estée Lauder Companies, Berkshire Hathaway companies, and Bristol-Myer Squibb, academic institutions such as Stanford, MIT, Harvard and training associations like SHRM, CTIA and the US Chamber of Commerce.
Leadership roundtables
Uncover the immense potential of Leadership Roundtables, a collection of dynamic facilitated discussions and planning sessions, equipping leaders to evaluate their progress, advance DEIB efforts and create a C.A.R.E. Culture within their organizations.
Online Learning
Access online learning and real tools to navigate the sensitive and ever-evolving landscape of diversity. INVERSITY™ offers seven online learning modules with engaging supplemental activities designed for introspection and reflection.
IT'S NOT HARD WORK;
IT'S HEART WORK.