Keynotes, Workshops & Training topics
Diversity, Communication & Leadership to Create Culture Shift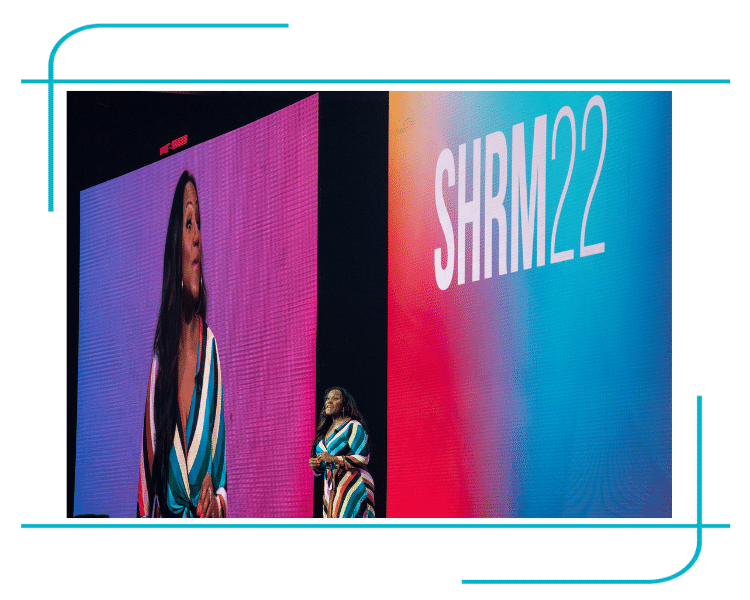 Whether you're a leader in a large corporation or an academic institution, Karith's DEI training & workshops can meet your organization's needs.

Karith Foster's experiences are designed to cultivate a sincere comprehension of Diversity INVERSITY™ with the perfect blend of humor, interactive participation, heartfelt stories and actionable tools.

INVERSITY™ is about maximizing positive outcomes for everyone participating in the conversation.
Presentation Topics
INVERSITY™ Solutions has created a selection of
keynotes, workshops and conversational experiences
to teach Conscious Communication skills in a fun, engaging and professional way.
No more boring disconnected lectures.
No more division and polarization from traditional DEI.
Karith uses the
power o
f humor (
with science-backed studies
) as her secret weapon to enhance genuine connections, increase productivity and manifest positive culture shifts. Topics include:
Diversity, Inclusion & Belonging
Communication and Leadership
Personal and Professional Growth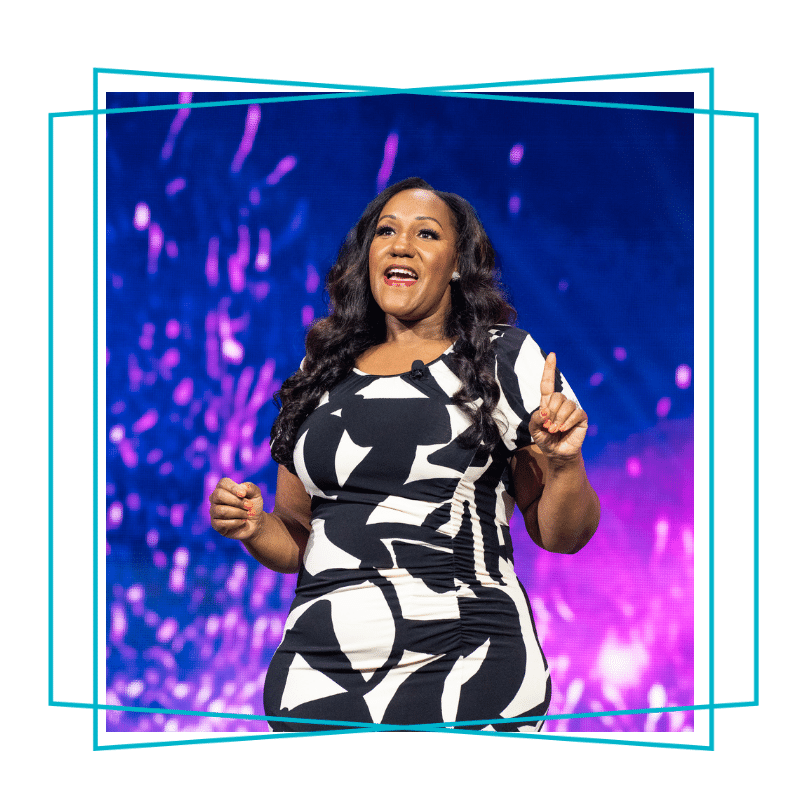 Diversity, Inclusion & Belonging
The Path to Intentional Inclusion: Mastering the 10 E's of Awareness
This engaging presentation highlights the limitations of traditional unconscious bias training, which attempts to tackle 100+ known biases—an impossible task. Instead, it introduces the 10 E's of Awareness as a more effective approach. By addressing root causes and building a strong foundation of awareness, participants will learn to overcome biases and foster diversity, inclusion, and belonging. Through interactive exercises and discussions, attendees will develop tools and strategies to create a respectful, valuable, and productive culture, empowering leaders to drive lasting change within their organizations.
Cultivating a Culture of Inclusivity: The R.E.S.P.E.C.T. Framework

In this dynamic workshop, participants will discover the R.E.S.P.E.C.T. Framework for fostering an inclusive work environment. Attendees will engage in activities and discussions centered on key principles such as Reading the Room, Educating Yourself, Stopping and Reflecting, Putting Yourself in Someone Else's Shoes, Environmental Awareness, Curiosity and Courtesy, and Thoughtful Communication and Teamwork. This approach empowers participants to build authentic connections, navigate differences, and contribute to a collaborative workplace culture.

Beyond Stereotypes: Inclusive DEI for the New Paradigm of Business
This presentation will provide attendees with the building blocks for creating a caring, inclusive, and healthy environment. Participants will gain a sincere comprehension of modern-day diversity, including the importance of reclaiming the word "diversity" to encompass everyone and their lived experiences. Karith will utilize a perfect blend of humor, interactive exercises, and storytelling to prompt attendees to think outside of themselves, consider how they view the environments they consciously and subconsciously create, and how they can proactively promote lasting positive change.
Am I Allowed to Say That?
When I was a kid, there was a show called, "You Can't Do That on Television." It was a show about bad behavior...While harmless, it was frowned upon by every parent attempting to raise respectful young men and young ladies. Today, that phrase could be applied to language and what's allowed and considered acceptable by mass audiences, including people from different cultures, generations and belief systems. What is acceptable nomenclature? Who is allowed to use which words and phrases? What's the difference between free speech and free expression? How does it impact the workplace?
The Great Generational Divide
There are multiple layers to what make us diverse. Yet, one of the least talked about topics is generational differences and the characters and influences attached to each generation. For the first time in history, we have four generations inhabiting the workforce at the same time. With these dynamics at play, there is bound to be some disconnect, misunderstanding and complete dissociation. How do we mitigate the differences of the generations to create an environment where people can learn, grow and be productive together?
What Do We Do When the Headlines Aren't Something We Can Ignore?
Even before 2020, leaders have been in the precarious position of choosing whether or not to make a statement internally/publicly when a controversial topic has hit the news. But since 2020, the pressure has never been greater for accountability and insight from leadership by employees. "Everybody's talking about it...so should we?" This is the question leadership must make the call on. How can this Catch 22 scenario play out with the best possible results?
Yay! We've Got Diversity in Our New Hires...Now How Do We Keep Them?
Having Diversity only in numbers doesn't equate (or translate) to inclusion. The easy part is hiring them; the hard part is retaining them. How can our organization create a culture, based on its original core values, that nurtures an environment of belonging and inclusion? How can our organization do this, not just in words and statements, but by actions after certain dynamics change?
Incremental INVERSITY™
What 1% incremental inclusion techniques will create a healthy culture continuum within our organization? What can be done within our organization that will make it an irresistible workplace for the people that have been long-term employees, as well as the new hires and the diverse talent pool they are looking to recruit? (Discussion based upon research and concepts found in James Clear's Atomic Habits and Josh Breslin's Irresistible Workplaces).
Woke Culture versus Awakened Culture?
There is a culture dichotomy happening in the world of diversity and inclusion and it's permeating the workforce (in full blast). The clash of acceptable terms, expressions and demands finds people feeling shocked, defensive and virtuous. But is that healthy for a corporate climate looking to promote inclusion and belonging? What does the alternate perspective of having an Awakened Culture offer?
How to Have the
"Un-Cancellable Conversation"
Cancel culture is alive and well– so much so, that in some circles of higher academia and Corporate America, one can't even use the term "canceled" without causing someone offense. This conversation will address what we can do to conduct ourselves in verbal interactions that will prevent (or mediate) someone potentially getting canceled.
To Celebrate or Not to Celebrate Certain Holidays….That is the Question.
When it comes to recognizing diversity, many are looking to incorporate the plethora of cultures that are representative of the lives and experiences of the people who make up an organization's workforce. What do we (within this organization) acknowledge and celebrate, and where do we draw the line? Do we acknowledge February as Black History Month? March as Women's History? Then, Pride Month is June and September 15- October 15 is Hispanic/LatinX Awareness Month. And don't forget Arbor Day for the tree enthusiasts (I jest, but it could come up). When we start, where does it end? When does a company stop having cake for every employee's birthday? What's the tipping point? How do we as an organization supersede any societal virtue signaling and incorporate the acknowledgement of cultures into everyday learning?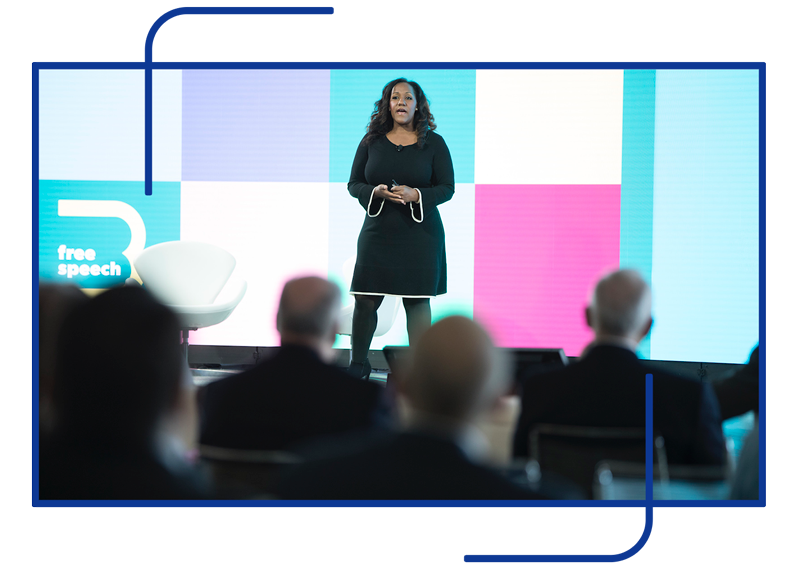 Communication & Leadership
Executive Leadership & Unconscious Bias: Addressing Hidden Barriers to Inclusion
Imagine if I were Oprah Winfrey and unconscious bias were a car. I'd be exclaiming, "You've got unconscious bias! And, you've got unconscious bias! We all have unconscious bias!" The audience would react with a blend of confusion and relief – confusion because many deny their own unconscious biases, and relief that they aren't alone in having them. This isn't difficult to grasp when we acknowledge that unconscious biases are deeply ingrained beliefs and attitudes that can inadvertently influence our decision-making and behavior, often perpetuating disparities and hindering diversity and inclusion efforts. As executive leaders, acknowledging and confronting these biases is key to fostering a fair, inclusive workplace. In this guided discussion, we'll delve into the concept of unconscious bias, its impact on the workplace, and how it can manifest in leadership decisions and actions. We'll cover strategies for recognizing and challenging unconscious biases while encouraging self-awareness and fostering a culture of inclusion and belonging. By actively addressing unconscious bias, executive leaders can create a diverse, collaborative, and successful organization.
Embracing Extreme Change in the Workplace (Without Chaos)
Like the terrain of a coastal roadway, the business landscape is constantly evolving, and organizations must adapt to remain competitive, relevant and stay on track. Extreme change in the workplace can stem from technological advancements, market shifts, or organizational restructuring. How can we navigate these changes without causing chaos? How can we maintain productivity and employee morale while transitioning through major shifts? This facilitated conversation will explore strategies for managing extreme change, fostering a sense of stability, and creating a culture of adaptability and resilience. We will discuss the importance of clear communication, inclusive decision-making, and supporting employees during the process to ensure a smooth, successful transition.
Company Culture & Identity: Crafting a Shared Vision
A strong company culture and clear identity are vital for organizational success and employee satisfaction. They serve as the foundation for teamwork, motivation, and a sense of belonging. How can we define our company's culture and identity in a way that resonates with employees across diverse backgrounds and experiences? It is the difference between engagement and apathy; between enrollment and quiet quitting. How do we create an environment that fosters shared values, collaboration, and open communication? In this facilitated conversation, we will explore the role of leadership, employee engagement, and inclusive practices in shaping a positive and cohesive company culture. We will discuss strategies for aligning company culture with organizational goals and embracing diversity to create a unique, authentic identity that supports growth and innovation.
The Empathy Advantage: The Soft Skill Superpower Every Leader Needs in their Skill Set
Empathy is the key to awareness. Without it, there can be no growth because the assumption is there is nothing to improve. True leaders know there's always room for improvement. Empathy unlocks the mental vault that allows for understanding and comprehension– and this then translates into words and action. But here's the catch– one cannot achieve Empathy without vulnerability. So how and where does this trait get nurtured?
Empathy is the key to awareness. Without it, there can be no growth because the assumption is there is nothing to improve. True leaders know there's always room for improvement. Empathy unlocks the mental vault that allows for understanding and comprehension– and this then translates into words and action. But here's the catch– one cannot achieve Empathy without vulnerability. So how and where does this trait get nurtured?
The Currency of Listening
Most people underestimate the power of listening, which is ironic because almost everyone wants to be heard. Listening is a skill that is the quiet (pun intended) gamechanger in nearly every relationship, both personal and professional. Yet, true listening is one of the skills that most are least proficient at. When we listen effectively we gain insight and we nurture group dynamics by encouraging others to share - a priceless outcome that pays in dividends. While it can be a challenge to hold one's tongue when chomping at the bit to add our two cents, we must remember that the same letters that make up the word S-I-L-E-N-T also make up the word L-I-S-T-E-N. This conversation revolves around listening, how we can do it more and better, as well as the undeniable results it will bring.
Executive Leadership & EQ: Harnessing Emotional Intelligence for Success
Emotional intelligence (EQ) has become increasingly recognized as a critical component of effective leadership, playing a significant role in building trust, inspiring teams, and navigating complex situations. How can executive leaders develop and enhance their EQ (without insulting their IQ) to better understand and connect with their team members and drive organizational success? This facilitated conversation will delve into the core elements of emotional intelligence, such as self-awareness, empathy, and effective communication. We will discuss practical strategies for cultivating EQ in executive leadership, including fostering a supportive environment, leading with authenticity, and embracing continuous learning. By harnessing EQ, leaders can create strong relationships, inspire collaboration, and navigate change with confidence and resilience.
Shifting Leadership Standards with C.A.R.E.
When the stakes are high, leaders must know how to react responsibly and create successful interactions and relationships. This session teaches the building blocks of a healthy environment and a successful public image with C.A.R.E. (Conscious Empathy, Active Listening, Responsible Reactions & Environmental Awareness)
Making the Shift from a Safe Space to a Brave Space
This presentation gives insight and understanding into navigating the world of political correctness in order to increase productivity, morale and innovation. By understanding it's not what you say (but how), this program educates participants on free speech, environmental awareness and conscious communication.
Navigating Beyond Our Differences with Conscious Communication
This session acknowledges that we all have bias. Participants will learn to transcend the bias that separates and divides, form authentic connections and improve upon their interpersonal communication skills.

What Makes or Breaks an Authentic Connection
Having an authentic connection with others entails having effective, courageous, heart-centered communication in all areas of your life (home, work, social). This session helps participants to elevate beyond the surface-level interactions to identify and cultivate true connections.
Lessons in Leadership, Listening and Laughter
This workshop is a surefire recipe for reimagining leadership, active listening and incorporating humor into our everyday interactions. This session will reignite leaders' passion for work, while arming them with extra tools to tackle responsibilities with grace and confidence.
No Fear, No Problem: Releasing Fear to Free Ultimate Self-Expression
This session deep dives into how we can release habits, ideas, and situations that do not serve us and hold us back from personal and professional success. By releasing fear, we gain more freedom, confidence, knowledge and personal power.
Personal and Professional Growth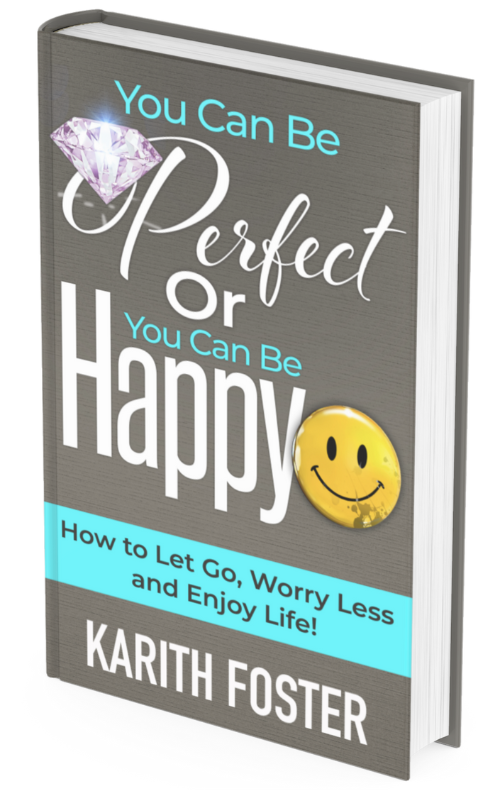 You Can Be Perfect or You Can Be Happy
This poignant presentation not only reminds us that it is okay to be human; but grants us permission to embrace our humanity. By getting back to the B.A.S.I.C.S., Karith masterfully guides her audience through navigating the balancing act of life, work and social media in order to find happiness and peace in imperfection.
Pivot to Your Purpose
Adjusting to new ways of life, working, learning and communicating since 2020 has become an absolute necessity. Explore why the "pivot" buzzword is so critical to our success and survival, both personally and professionally (and how to actually P.I.V.O.T.)
You Are E.N.O.U.G.H.™
This high-energy, interactive presentation infuses positive psychology to cultivate growth and expose the pitfalls of the negative internal dialogues that create the obstacles that keep us from living our best lives personally and professionally.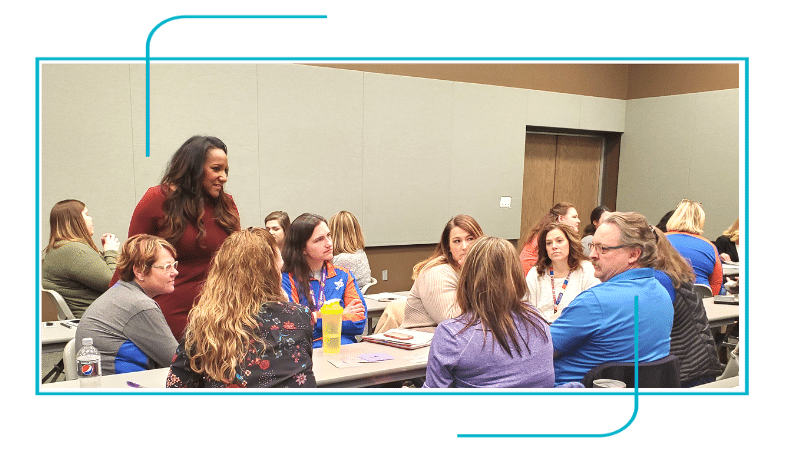 INVERSpeak™ Slides
Karith Foster employs our exclusive, state-of-the-art presentation tool, INVERSpeak™ Slides powered by Slides with Friends, which boosts engagement, learning, and memorability in DEIB workshops and keynotes.


Interactive, engaging, and user-friendly: Interactive, engaging, and user-friendly, features like live polls and quizzes enhance participation. With no need for apps or downloads, our technology allows your team to join seamlessly via a QR code or URL, making it ideal for both remote and in-person meetings.


Promotes inclusivity and connection: By giving every team member a voice through interaction, INVERSpeak™ Slides encourages active participation and builds a strong sense of unity and understanding among your team members.


Adaptable to your organization: We incorporate thoughtfully designed questions and polls aimed at collecting immediate feedback from your team and leaders during the presentation. This real-time engagement enables Karith to adapt the content to their needs while she's speaking. This ensures a unified, interactive, and customized learning experience that can foster connection and even spark laughter among participants.
IT'S NOT HARD WORK;
IT'S HEART WORK.
KEYNOTE Speaking & WORKSHOPS
For over a decade, Karith has given presentations and training at corporations like The Estée Lauder Companies, Berkshire Hathaway companies, and Bristol-Myer Squibb, academic institutions such as Stanford, MIT, Harvard and training associations like SHRM, CTIA and the US Chamber of Commerce.
Leadership roundtables
Uncover the immense potential of Leadership Roundtables, a collection of dynamic facilitated discussions and planning sessions, equipping leaders to evaluate their progress, advance DEIB efforts and create a C.A.R.E. Culture within their organizations.
Online Learning
Access online learning and real tools to navigate the sensitive and ever-evolving landscape of diversity. INVERSITY™ offers seven online learning modules with engaging supplemental activities designed for introspection and reflection.