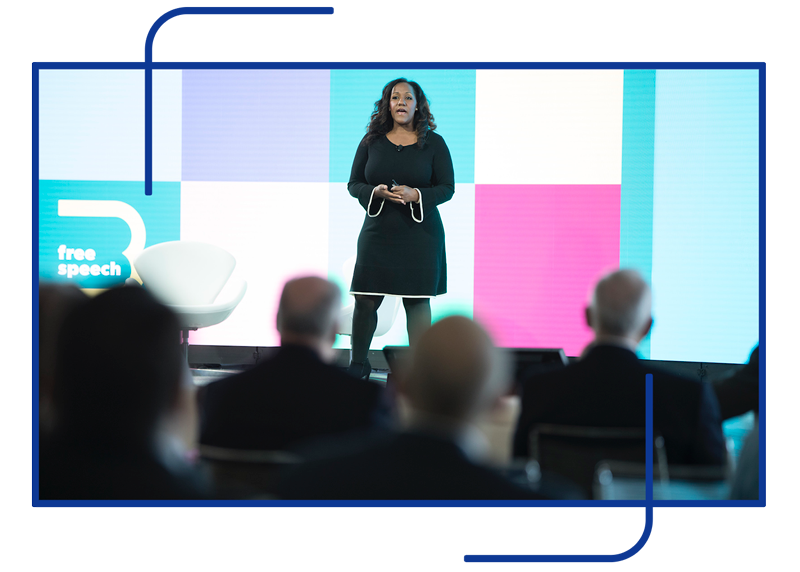 Workshops
Whether you're a leader in a large corporation or an academic institution, Karith's custom workshops can meet your organization's needs.
With traditional DEI training, we've been working from the outside in.
When it comes to behavioral change, the least effective approaches involve fear, guilt or regret.4
The best way to change behavior is by working from the INside out.
Experts agree that long-lasting change is most likely when it's self-motivated and rooted in positive psychology.4
Workshops & Keynotes
Karith's INVERSITY™ model invites all members of her audience to C.A.R.E. so they leave with the enhanced tools of Conscious Empathy, Active Listening, Responsible Reactions and Environmental Awareness.
You Can Be Perfect...OR You Can Be Happy™ is an engaging presentation that reminds us it's okay to be human. By getting back to the B.A.S.I.C.S., Karith masterfully guides her audience through navigating the crazy balancing act of life, work and social media in order to find happiness and peace in our imperfection.
Breaking the Laws of Leadership™ addresses head-on the most simplistic method to gain discipline and have a practice of excellence in leadership.
P.I.V.O.T. to Your Purpose™ is an exploration into why the "pivot" buzzword is so critical to our success and survival, both personally and professionally (and how to actually P.I.V.O.T.)
The Humor Initiative™
showcases the importance and power of humor in business culture and how it enhances personal and professional relationships. When successfully used, humor and positive reinforcement can manifest desired outcomes and productivity.
Can We Speak Freely?™At Work gives insight and understanding to navigating the world of political correctness. By understanding it's not what you say but how, this program aims to educate employees on free speech, expression and creating communication awareness. This fosters an environment for an open exchange of ideas at work to improve productivity, morale and employee relations.
You Are E.N.O.U.G.H.™ is a fun, high-energy, interactive presentation designed to cultivate growth and expose the pitfalls of negative internal dialogues, so we can live our best life personally, professionally and academically.
"Today I had the opportunity to attend your Inversity webinar and I want to thank you for your honesty, transparency, and graciousness. You shared a piece of your heart in stories that showed vulnerability. Thank you so much for your time and wisdom today."
Linda Lydon, CCWS
Stanford University Human Resources | BeWell
IT'S NOT HARD WORK;
IT'S HEART WORK.